Creekside at Boggy Creek is a beautiful community nestled in the heart of central Florida near one of the newest up-and-coming cities, Lake Nona.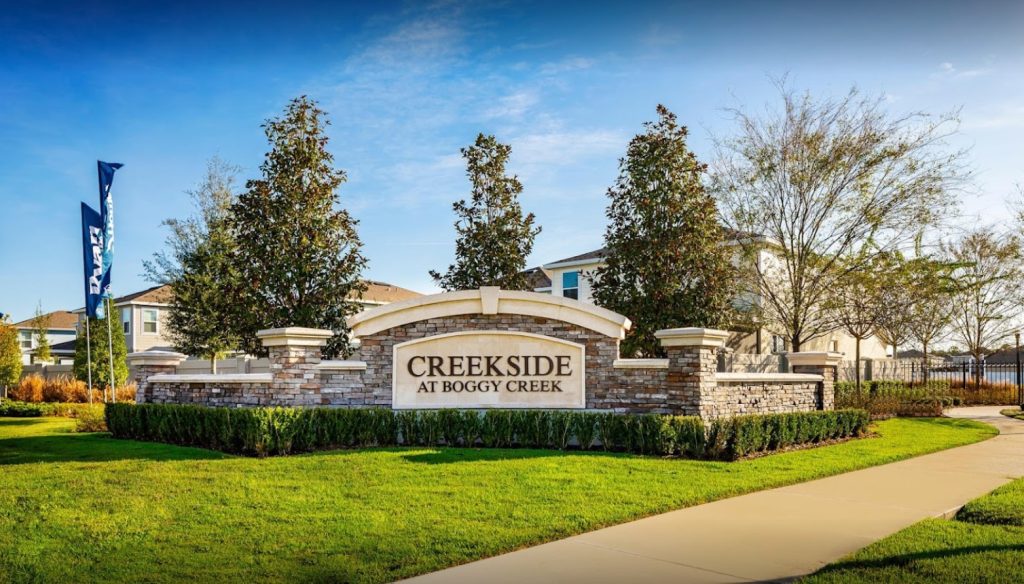 Enjoy a relaxing time by the resort-style zero-entry pool and cabana. Whether you are trying to unwind or enjoy a swim on a hot afternoon, the Creekside at Boggy Creek pool gives you everything you need to relax and have a great time. 
Need somewhere to take the family? Look no further than the Children's Playground located beside the Creekside at Boggy Creek Pool and Cabana. This playground is covered from the hot summer sun and features a children's rock wall, a slide and more.
Looking for that sweet spot to take the family pet? Creekside at Boggy Creek features a green space for all our furry friends located on Armstrong Spring Drive.
Board Members &
Artemis Lifestyles Staff
On behalf of the Creekside at Boggy Creek HOA Board of Directors, welcome to our Creekside Website managed by Artemis Lifestyles. 
Chris Barcikowski
President
Kristian Diaz
Vice President
Payal Beharry
Secretary/Treasurer
Audrey Fontaine
Community Association Manager afontaine@artemislifestyles.com
Architectural Application Contact
arb@artemislifestyles.com
Customer Experience
customerservice@artemislifestyles.com
Frequently Asked Questions
Most frequent questions and answers
Is Creekside At Boggy Creek Gated?​
Creekside at Boggy Creek is a gated community. The current vendor used for the gates is Access Control Technologies (ACT).
How Do I Make A Payment Online?
You can make a payment online by logging into the Frontsteps Resident Portal or on the Artemis Lifestyles app (available for download on the Apple App Store or Google Play).
Frontsteps has a convenience fee of 3.5% of the total amount when payment with a credit/debit card. Electronic Check (ACH) payments there is a fee of $2.95 each payment.
How Do I Get A Gate Remote?
For community gate access, two free remotes should be provided by the builder at closing. All remotes provided must be activated by the association by completing the gate access form, found in the FRONTSTEPS portal, with your contact information and the serial numbers on each remote.  For additional remotes, homeowners must fill out a gate access form and bring it to the Artemis Kissimmee office with a check or money order for a total of $30 dollars per remote, made payable to Creekside at Boggy Creek HOA. Forms can also be mailed to the Artemis Lifestyles office at 1631 E Vine St, Suite 300, Kissimmee, FL 34744. Cash or card payments are not accepted for gate remote purchases.
Where Do I Find My Account Balance?
To locate your account balance and history, log into your Frontsteps Resident Portal. On the dashboard, you will see your balance on the right-hand side along with a green "Make a Payment" button. You may also click "Quick Actions > My Payments" in the FS portal menu to view your payment details. 
I Want To Make A Change To My Property, What Form Do I Need?
To make a change to your property please fill out an ARC/ARB application. The application can be found in multiple ways. Either on FRONTSTEPS via your community's portal, the documents page, or by sending an emailing to arb@artemislifestyles.com with your ARB application attached.
What Is An Estoppel Letter?
A legally binding document, to fund out whether the seller has any outstanding balances owed to the HOA.
How Do I Submit My ARB Application?
Once the form is fully completed, the application and required documents can be submitted multiple ways. You can submit the application by sending the information to ARB@artemislifestyles.com,  or by submitting it on FRONTSTEPS in the architectural module. 
Who Should Request The Closing Documents?
Typically, the Title Company, Realtor, or other agent may order the document for their clients. However, a seller may request and pay for the resale disclosure document.
What Documents Are Required To Make An ARC/ARB Change?
All ARC/ARB applications require a completed application, a copy of the property survey indicating where the change will occur, a copy of all applicable vendor contracts/estimates, and photos of the intended result of the project. Only one project should be requested per application.
How Long Does It Take To Receive Closing Documents?
Estoppels ordered standard will be delivered within 10 days. Rush Estoppels will be delivered no more than 3 days. Association Documents once ordered will be delivered within 3 days.
Do I Need To Submit An ARC/ARB Request For All Projects?
All permanent exterior modifications must be applied for. Examples include but are not limited to exterior painting, landscaping, fences, pools, permanent sports equipment, screen enclosures, gutters, driveway expansions, etc.
Why Do I Need A Lender/Mortgage Disclosure?
Mortgage lenders require specific information regarding the association (financial information, property ownership ratio, insurance agency, delinquency data, etc). This document is also known as the warranty letter, condo cert, HOA cert, PUD cert or mortgage cert.
Where Would I Find My Community's Approved Paint Colors?
The approved color palette for the community can be found both on the Frontsteps portal or directly on the Sherwin Williams Homeowners Association Color Archive website. Click here to be redirected to that website and search for Creekside at Boggy Creek.
How Do I Request An Estoppel?